SUNLESS RX
SALON SELF-TAN MIST
Our NEW environmentally safe, professional self-tan mist not only creates the perfect bronze glow but does it without use of any dangerous toxic fumes. By using only compressed natural air with safe non cancer-causing chemicals.
Makeup artists number one choice for a natural look
MOCHA BLISS
The New Mocha Bliss Premium Blend is an improved formulation for 2017. Now slightly darker than our standard Mocha Bliss plus free from any animal products or testing. Much of our success is also due to more purified sources of DHA and refinements in our high tech manufacturing process. SUNLESS RX™ developed a unique mix of two select DHA types. The color change now takes only two hours to begin appearing on the skin surface and will continue to darken for up to 14 hours. This eliminates the theory of purchasing three or four airbrush solutions with different percentages of DHA solution for a light, medium or dark result. Make your service simple and profitable. A new perfluoropolyether phosphate has also been developed which allows for a lower pH for the sunless spray solution without any skin irritation. We formulate with no harsh chemicals, parabens and no cancer causing ingredients. All products are California prop 65 compliant and certified with no cancer causing chemicals. We are also approved for sale in Canada and Europe.
ESPRESSO
Anti-Aging
Our patent pending Espresso EA is a virtually drip-free, Aloe Vera based solution. We infused it with natural extracts from Cucumber, Mahakanni , Chamomile Leaf and Green Tea. It completely dries in 60 seconds when properly applied, leaving the skin moisturized and treated with an infusion of vitamins A, E, and C.
Espresso Anti-Aging is thicker than most sunless DHA solutions and has lower overspray characteristics.
For custom color blending Espresso EA can be mixed with both Mocha Bliss and our Copper+Serum Drops. Our solutions are Made in the USA under strict California Proposition 65 guidelines and contain no cancer causing ingredients or chemicals. SUNLESS RX™ products are also 100% Vegan and Cruelty-Free.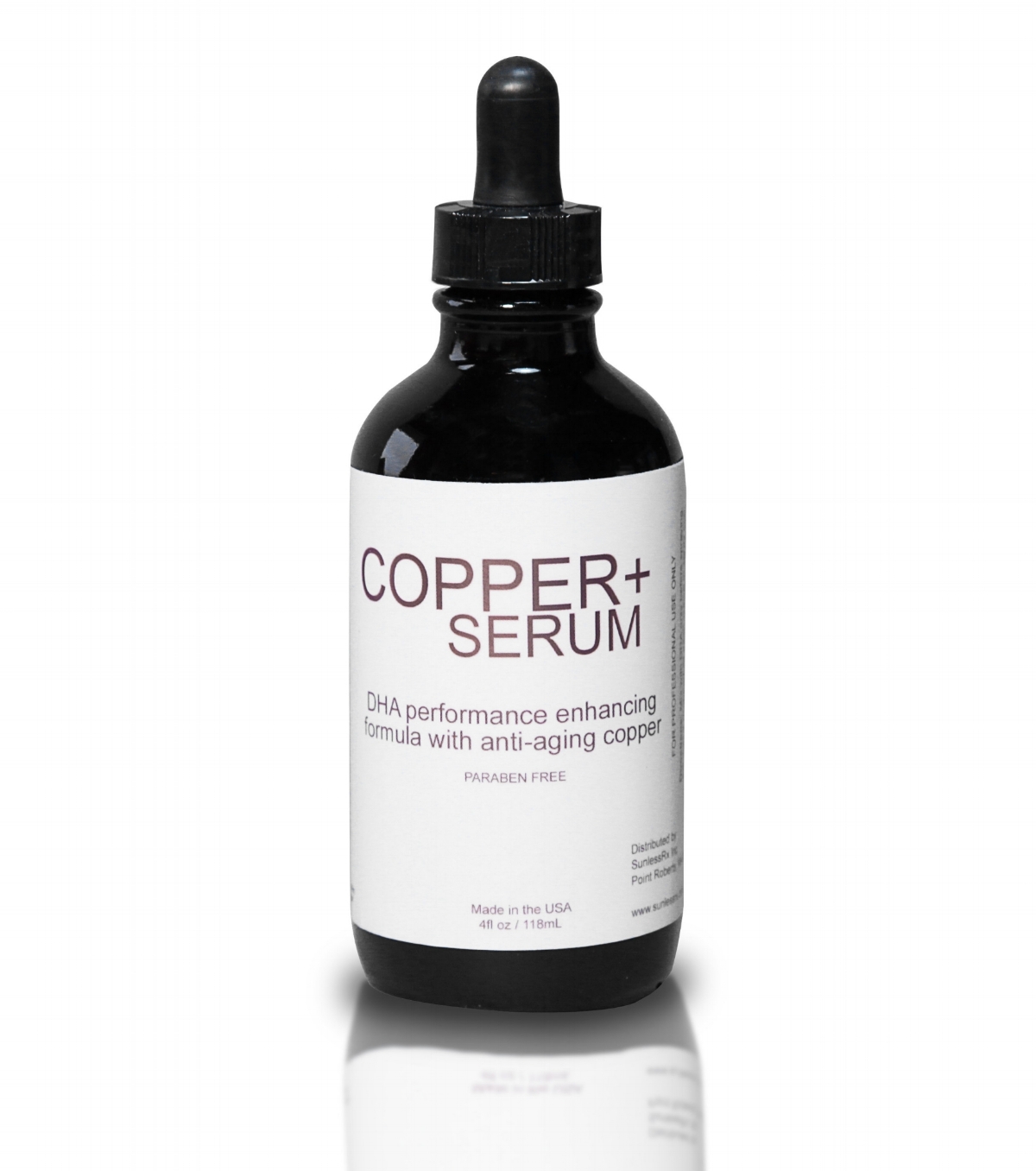 COPPER + SERUM
Our COPPER + SERUM with its high concentration of Copper Amino Peptides plus cosmetic bronzers enhances the power of any DHA spray and unlock the maximum tanning potential for the deepest darkest sunless tan possible. The added skin benefit comes from copper, a skin-conditioning agent that may have antioxidant properties by stimulating the antioxidant enzyme superoxide dismutase. This product is very useful in competition tanning, motion picture, and photo shoots. Used by industry professionals to fine-tune a body and sculpt color. For professional use only.
Face & Body Self Tanning Gel
SUNLESS RX™ self-tanning gel "Bella Luce" comes from years of sunless research. This unique formula was crafted using the finest natural skin nourishing ingredients including, Aloe Vera Juice, Sugar Cane and Apple Fruit Extract. We went one step farther by adding natural Camellia Seed Extract and Sweet Almond Oil. Praised as the beauty secret of the Geishas Camellia oil has been recognized for centuries in Eastern Asia for its highly restorative and rejuvenating effect on skin. Camellia oil also contains the vitamins, A, B, and E plus Squalene.
SUNLESS RX™ no harsh ingredients and all our products are cruelty-free/vegan.
Made in the USA. This product has the matching sent and color tone of Mocha Bliss and is Available for private labeling.
Natural Bamboo...NO plastic Microbeads
BAMBOO BLISS SCRUB
Our invigorating micro-scrub uses fine grains of natural bamboo infused with aromatic essential oil to help reduce stress and elicit a sense of well-being. Bamboo Bliss Scrub evenly removes rough, dry skin, and helps to stimulate circulation. With daily use, it will leave skin looking polished and feeling smooth. Feel the effects of these intense, uplifting essences as the whole body is revived. Designed for all skin types, except extremely sensitive or couperose skin. SUNLESS RX™ uses no harsh ingredients. Our products are cruelty-free and vegan.
Contains no Microbeads 100% Earth Friendly. Made in the USA
INGREDIENTS: Sodium Lauryl Glucose Carboxylate, Lauryl Glucoside, Aloe Barbadensis Leaf Juice, Water (Aqua), Decyl Glucoside, Polyethylene, Acrylates/C10-30 Alkyl Acrylate Crosspolymer, Citrus Nobilis (ORGANIC Mandarin Orange) Essential Oil, Glycol Distearate, Steareth-4, Citrus Aurantium Amara (Bitter Orange/Petitgrain) Oil, Citrus Nobilis (Mandarin Orange) Peel Oil, Sodium Benzoate, Gluconolactone, Sodium Hydroxymethylglycinate, Bambusa Arundinacea Stem (Bamboo) Extract Powder.